From Mary Ainsworth's Birthday Party
All of Mary's friends are indebted the University of Virginia Psychology Department for the support and affection they extended to Mary Ainsworth after her retirement. They were always ready to provide student assistants to help her with her papers, a new computer to facilitate her work and help her keep in touch, and lots of company and secure base support.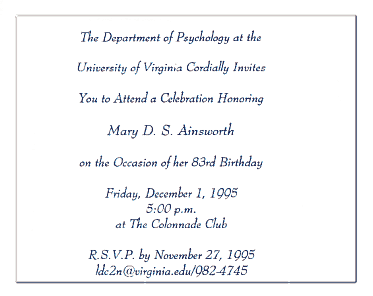 In December 1995, the Department held an elaborate celebration of Mary's 83rd birthday with dinners and speakers and general revelry. Mary was up and enjoying everything from morning until after 11p.m. The image of her eating pizza late at night at Bob Marvin's house, laughing, and bemoaning the fact that her doctors wouldn't approve of her having anything "more refreshing" to drink with it is a special one for everyone there. The engraved party invitation is reproduced above. Some photos from the party are included on the Special Mary Ainsworth page.
Mary enriched the Department before her retirement. Their kindness toward her thereafter enriched it again.